Testimonials
---
4J's Construction
Brian Reinholtz Ph: 250-558-8602
---
TJS construction
---
Village Green Hotel
General Manager Robert Glattfelder - Email Contact
---
Stonecroft Management LTD

Stonecroft Management Ltd hired Castle Acoustics to fulfill the contract on the following project:
The Outback Resort Project-Stage 1 (2006-2007)
9845 Eastside Road, Vernon, BC
Primary drywall and suspended ceiling subcontractor for Stage 1 of this high end lakeside vacation resort.
Included 36 residential buildings and four commercial buildings inclusive of an Owners Clubhouse, Elevator and two Pool Facilities.
Castle Acoustics completed all aspects of work quickly and efficiently. Their company demonstrated a professional manner, as well as quality workmanship. I would not hesitate to work with them in the future on another project.
Scott Nash, Senior Project Superintendent
Stonecroft Management LTD.
---
Embassy Builders LTD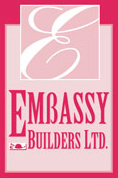 Castle Acoustics Ltd has been working with Embassy Builders since 1989. Their scope of work has included residential renovations; renovations and new construction of Interior Commercial Construction. They have provided excellent service and superior workmanship for steel stud framing, T-bar ceilings and drywall applications.
In the past Castle Acoustics has completed numerous residential renovations for Embassy Builders.
Our long standing relationship provides me with the position to highly recommend Castle Acoustics for any size project.
Barry Nodder, General Manager
Embassy Builders LTD.
---
Susan and I just wanted to thank you folks for doing a great job on our house this fall. Right from the time you quoted us until the job was finished you have kept us informed of progress with materials, address concerns and been on time as promised. The house looks better than we expected and you efforts are appreciated.
Thank you again for being on time and on budget!
Rob Mathews
---
Thank you very much for such a great job on our basement. We will definitely send more business your way!
Brian & Laura
---
Steel Stud Framing. Qualified to construct load bearing and structural assemblies.
Suspended Ceilings. Includes t-bar, drywall and linear metal suspended ceilings.
Drywall & Drywall Finishing. Including sound and fire rated assemblies.
Construction/Renovations. Commercial, Retail and Residential.
Stucco applications. Including repairs.
Insulation with vapour barrier.
Demolition.
Ceiling Tile replacement and repair to Suspended Ceilings.
Salmon Arm GM Dealership
The Orchard Valley Retirement Residence (Vernon)
The Shores Retirement Residence (Kamloops)
The Cherry Park Retirement Residence (Penticton)
Fraser Financial Corporation
The Summit Building
Crown Council
Investors Group
Fountain View Building
The Village Green Centre Mall
Numerous Doctor's Clinics
Quaaout Lodge, Little Shushwap Lk
Greyhound Depot, Whitehorse Yukon (1990)
Chrysler Dealership, Whitehorse Yukon (1993)
Mae Bachur Humane Society, Whitehorse Yukon (1998)
Numerous other commercial and residential projects in the Yukon
Earls Restaurant, Vernon (1991)
Village Green Hotel renovations (2012)
Lifestyle Natural Foods, Village Green Centre Mall Vernon (2013) ceiling tile replacement